We recently held a really interesting Amazon Web Services (AWS) DeepRacer Immersion day for some of our IT staff.
The idea behind it
Machine learning is a form of artificial intelligence which focuses on the development of computer programs that use data to perform a specific task. Through repetition of the task, the model automatically learns and improves without the need to be reprogrammed.
As part of our commitment to staff development, we wanted to introduce some of our developers and engineers to the world of machine learning in an exciting and engaging way. We also wanted to create an opportunity for our staff to network and have discussions about the technology. So holding an AWS DeepRacer immersion day was perfect for this.
Upskilling our staff in machine learning allows them to develop new skills. It'll hopefully put us in a position to respond better to new technology and apply machine learning in future projects.
Getting 'Deeply' immersed
Our Richard Ley Development Centre theatre was temporarily transformed into a race track for the event, which was hosted by Lyndon Leggate, AWS Machine Learning Hero and Founder of Deep. It proved to be a brilliant way to provide a taster event in an environment that's both fun and interactive.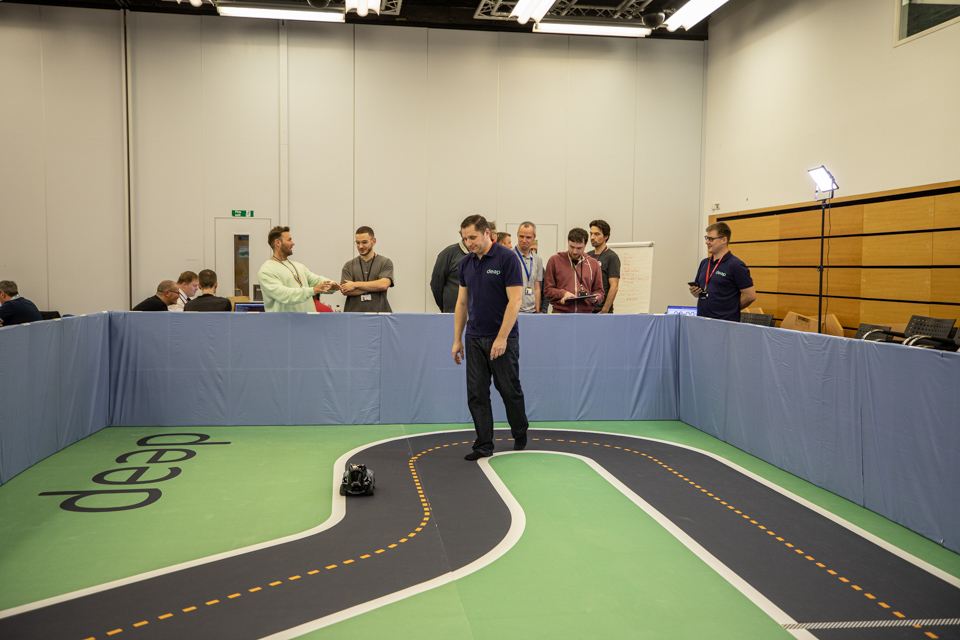 There was a mix of theory and practical tasks for staff to get stuck in to, which took them from knowing very little about machine learning, to being able to build their own race car models. These  used reinforcement learning to race on either a virtual or physical track and improve their own lap times.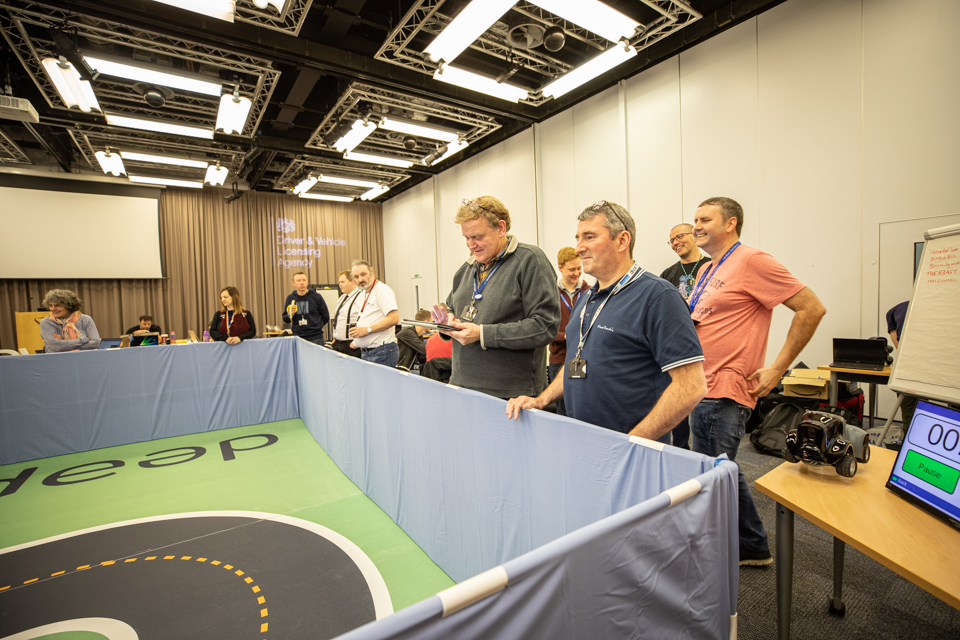 With lots of tension, laughter and more importantly learning, staff worked together in teams to compete in lap races, with a trophy up for grabs for the winning team with the fastest lap time. We found out that there's even an AWS DeepRacer league, which I'm sure some people are now tempted to join!
What everyone thought
We received lots of great feedback from the day. Here's what some of the attendees said:
"I thoroughly enjoyed the event. We were given an overview of machine learning and how it can be applied to everyday situations. We were then given the opportunity to try it ourselves using the AWS DeepRacer services." Software Engineer
"We had the chance to build and model our own vehicle, and learned how to train it to drive around a virtual racetrack, using a simulator. Once the training was completed, we all raced our vehicles on the physical racetrack, trying to achieve the fastest lap time. Whilst being fun, the event gave us an insight into the application of machine learning and the emerging AWS technologies, which will put us in a good position for any future projects." Software Engineer
"The most interesting element for me was to see the development of each race car model. Initial models just resulted in the cars crashing or completely veering off the track. Despite this, the model continued to learn from its mistakes and was zipping around the track in no time." Emerging Tech Lab
"It's so great to see that the agency is investing in us as developers and engineers, pushing us further to learn and experience emerging technologies that a lot of other companies wouldn't do. Although the day was lots of fun, with toy cars and coding, it really got my mind thinking about the future of DVLA and the exciting direction we could be heading." Cloud Engineer
If this sounds exciting, come and join us
If training and development opportunities like this sound exciting, we're always looking for people to join our digital and technology teams.
We're currently recruiting for 10 placements on our Cloud Engineering Development Academy, which is a 2 year programme that will combine classroom training with hands on experience.