As part of the Digital by Default agenda, many government departments have switched from the traditional methods of developing software and adopted the Agile approach. Here at DVLA we are no exception.
Having been a User Acceptance (UA) tester using the waterfall method for almost 8 years, I must admit that the prospect of this 'trendy' new way to test seemed almost too good to be true. The thought of having a product pass through every stage (pre-production, criteria creation, product owner review, development, testing) and still be completed within 2 week! Surely someone was pulling my leg? Alas, they were not. Not only is testing in a team that has adopted the Agile methodology achievable, it is also an effective way to achieve the right results.
When asked if I wanted to write this blog I must admit that I got very excited. But once that excitement settled down and reality hit me the panic began to sink in. How would I explain what I do without turning this blog in to a 3 day essay? The easiest way is to try and sum up 'a day in the life of an Agile tester' as best as I can.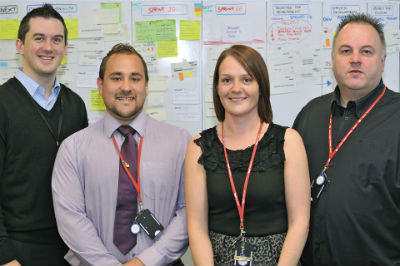 My usual day kicks off with grabbing a coffee (it is just before 8am after all) before climbing the stairs and entering our Agile area. Walking in to the room I catch a glimpse of our wall, which has been conveniently positioned to be the first thing you see as soon as you walk through the door, and a quick scan shows me that today is going to be another busy day.
User Stories that yesterday sat in the 'Under Development' section have now found their way over to 'Ready for testing'.  Likewise, there are User Stories that have now been placed in the 'selected for development' stage and therefore need to be scripted. All this means one thing for me and my fellow testers Paul, Barry and Andrew. The race begins to see who gets their avatars on the post-it notes first!
As an agile tester I must be able to communicate with all roles and levels of the Agency so joining in our daily stand up meetings every morning with our Service Manager, Programme Manager, Product Owner, Business analysts, software developers... isn't as daunting as it once was. The stand-ups are short meetings but very useful for the entire team as they give us the opportunity to catch up on progress, today's activities and blockers. From today's stand-up I now know that the incidents that I raised just last night have already been fixed and are ready to be re-tested. With a mental note made to re-test these before working on anything else today, I go on to give my daily update.
Once back at my desk, with the aforementioned incidents now re-tested and passed, I start to look more in-depth at what tasks I've selected to complete today. After a quick chat with the Business Analysts and developers who have been working on the User Stories, its head down for me as scripting and data preparation commences. With the promise of a 'code-drop' later on in the morning, I'm hopeful that this scripting will be finished before deployment starts so they can be included in the drop.
With this now complete, I have a quick check in my daily calendar and see that next on today's agenda is a small demonstration of the service in our team area. I've become quite accustomed to presenting and showcasing since joining the team and whilst I openly admit to enjoying the buzz that it gives me today is a little bit different as the project is being paid a visit by a member of the House of Lords - no pressure then! Although I've spoken to crowds ranging from 5 to 150 people, presenting to a Lord is a little more fear-provoking I must admit. I  should not have worried though. His interest in data sharing and his personable approach relaxed me from the beginning and, despite a technical hiccup half way through, I think I managed to pull it out of the bag.
It's now after lunch and I'm back at my desk and ready to go again. Having seen that the code-merge has now been completed I take my seat and start testing what was scripted this morning. Being a tester with an end-product that is aimed at the customer means that I must think and act like the customer would. By having the ability to understand that not all customers will access our portal in the same way means that each and every one of our tests is completed across the multiple browsers that are now available (Internet Explorer, Firefox, Chrome) as well as the various tablets that are currently available on the market, today's choice for testing being the Apple iPad and Android Nexus 7.
Adding this testing in to the automated testing, security testing and exploratory testing that we also complete during each sprint, I think that it's safe to say that we've covered all that can be covered. Extensive as this is, it takes me pretty much to the end of my working day and, just before I pack up and leave, it's a quick visit to the wall where I move the necessary post-it notes across to the 'Acceptance Testing' section. This section shows that not only has this story passed testing, it has also achieved the teams definition of done.
It's back to the day job for me now (those User Stories won't test themselves after all) but thank you for taking 5 minutes out of your day to read this blog. If you have any questions or comments then please leave a message below and I'll be happy to reply.