In a rapidly changing organisation, racing towards delivering top class digital services to its customers, we have a challenge.
The challenge is, to sustain this level of delivery we need our staff on board and in possession of digital skills. They have the knowledge of how the business works but not necessarily the skills to translate it into service delivery.
We have written about agile developments, user interface design and customer insight and how all of that supports the hardcore devs that code our services from the ground up. But it washes by some people as not being relevant. Not to them. Not in their current role.  That's not to say that they don't have the appetite to change, it just needs to be presented in the right way.
So how can we help the staff of DVLA understand that they have a role to play in 'doing digital'.
Let's hold our own hackathon to get people involved in things, hands on!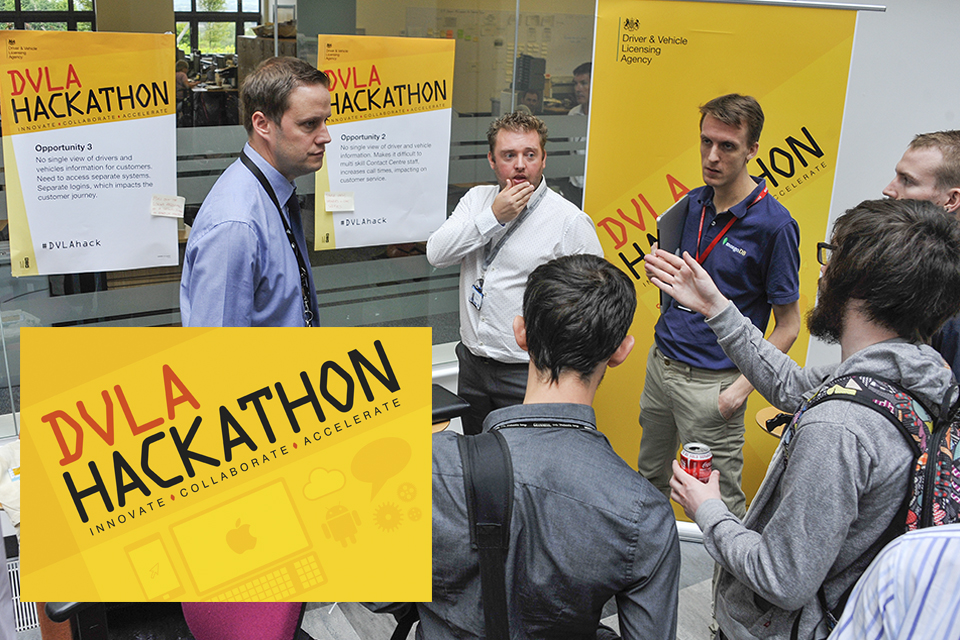 We had just come back from a Government Digital Service monthly all hands meeting in March and were having a debrief about what we had learned. One of the speakers who really stood out was talking about the recent floods and the flood hack event he had attended. There was clear excitement about the hack and the innovative solutions produced to help people stranded in during the floods.
It didn't take long for him to convince me that this could really work and we then had the easy…ish task of convincing the rest of the business to get involved.
We were clear from the outset that the objectives of the hackathon were not just to produce innovative customer solutions but also to show our colleagues what the DVLA of the future will look like.
Progressing at pace
Like most government departments we have dealt with primarily paper-based transactions for decades but we are now moving at pace with our drive to support the transformation of government services to make them more efficient and effective for users.
We are about to go live with our 'View Driving Record' exemplar, are now offering online services to Northern Ireland motorists for the first time and will be abolishing the tax disc from October 1st. Our other exemplar services are also progressing at pace and will be live in early 2015 and we are building a new digital services platform which is the enabler to building and supporting our own services in future.
So the hackathon idea seemed to tick all the boxes when it came to demonstrating what future roles and opportunities in the future DVLA looked like. It showed how we need to focus more on involving people with the skills we need to get the outcome rather than by getting representatives from each business area.
By its very nature, a hackathon shows how quickly things can be developed when collocated teams are armed with sound business knowledge and the right attitude. The lack of time also forces innovative thinking and most importantly gets people excited and interested in change delivery and shows how they can get involved.
Commercial partners
We also approached our commercial partners early in the process to ask for their support and this was the final piece in the jigsaw. It enabled us to illustrate the future DVLA model for change delivery and service support. This was due to the hack teams being made up of our own in house developers, graphic and multimedia designers,  business people, an SME in Kainos and also support from the Government Digital Service. This is the way we will operate once we transition from our existing contract.
Now that the hackathon is done, I'll be the first to admit we didn't fully achieve all those objectives and we definitely underestimated the work involved.
What we did achieve though was collaboration and innovation in abundance. It was great to see different departments and organisations working together seamlessly. No politics or hidden agendas in sight.
There was also a lot of interest from other areas of the business who got to see how quickly we can deliver customer and business solutions with the right skills and attitudes. Most importantly they could also see digital is not a barrier and that everyone has a place in a digital DVLA.
It's definitely been worth it and after a lot of hard work and with crucial support from our commercial partners we delivered some interesting solutions and raised interest from across the business in technology and digital change.
Keep in touch. Sign up to email updates from this blog or follow us on Twitter.