It's always good to take time out from developing or running a service to look at the full end to end design and consider how it could be improved. Last week we decided to do this for all 8 of our vehicles digital services.
We gathered together - a varied group of experts from across DVLA - content and interaction designers, user insight, technical architects, developers, analysts, operations and delivery managers, testers, as well as contact centre and policy colleagues.
I started the day by reflecting, to the group, how excellent our services are and how high our user satisfaction is. I tempered this by saying we should be restless in our ambition to continually improve them. If we leave them as they are they won't be relevant for long.
The main objective for the day was to discuss consistency
Are we all using the same language? Is there any duplication? Where can we improve?
We took copies of each service and the various user journeys and posted these up on the walls.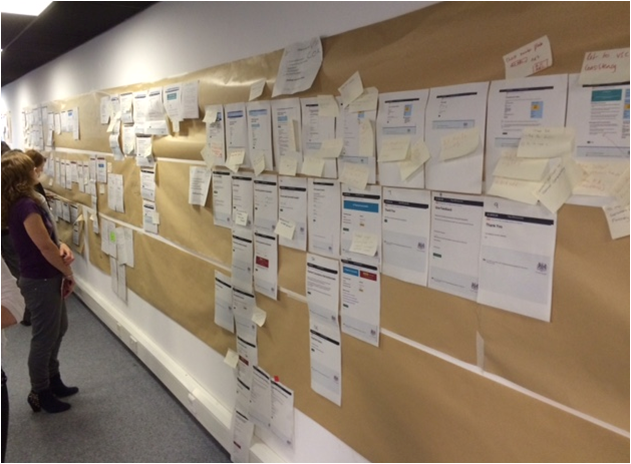 For many it was the first time they'd seen the other vehicle services. Each service team is so busy delivering and improving its own service, we don't often take time out to review others. Each service has developed, at its own pace, with its own user needs; with the design manual helping achieve a look and feel that is pretty consistent overall.
We split into mixed groups and reviewed 2 different services in each session, 4 overall, with time to wander the room to benchmark against others.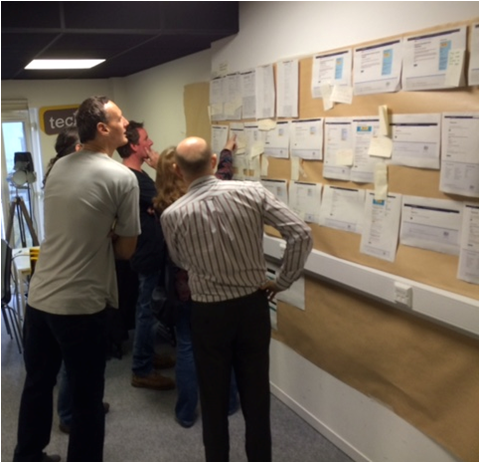 What did we learn?
While each service has its own unique needs, our user base is pretty similar, save for our fleet's enquiry service, which is solely aimed at commercial customers.
We've developed different user journeys for different users, for example motor traders, and we've have tailored our language to fit. We see this as a positive as the user base would have more familiarity with the services. We should not lose this.
There is an opportunity to be more consistent with design. For instance each service has developed its own start and summary page and captured its own image of the V5C registration certificate. Why can't we develop a summary page once and re use it?
Some specific terminology used differs, sometimes rightly so, but there is a need for further insight to see whether this impacts on the user experience.
The language could be simplified and made more consistent. When you're so close to a service you sometimes can't see the obvious.
We shouldn't change the service without further insight. We need to be consistent but not uniform. Some nuances are there for a reason, such as to meet a specific need.
As we finished up, there was plenty to ponder – some quick fixes identified, and acknowledgement that more insight was needed for the more substantial changes. I closed by reflecting how fortunate we are to have a wide group of passionate people, all committed to delivering excellent services.  Bringing them together more often to share ideas and share best practice is definitely top of that to-do list.