As part of the first-ever Wales Tech Week, DVLA recently hosted 'Agile on the patio', a cross-sector virtual conference to share best practice in Agile working both across government and in our community.
Helen Jones, Agile Delivery Manager, tells us more about the planning and work that went on behind the scenes.
Agile working
Agile methodology is a way of working which enables us to be flexible in our approach to project delivery.
I have been involved with the cross-government Agile Community of Practice for a few years and the original idea for 'Agile on the patio' was proposed at one of those meetings.
I also co-organise South Wales Agile Group but due to the restrictions since March, we haven't been able to meet up, so this was also motivation to organise something locally. When we saw that the first ever Wales Tech Week was running in July, we knew this was the perfect opportunity for Agile on the patio to take place.
I am passionate about Agile and believe that we can do great things by adopting this way of working, so a virtual event to bring together like-minded people to talk about it and share knowledge was exciting.
Planning on the patio
We contacted various professionals in the software development industry and asked if they would be interested in presenting at the event. We were really lucky to secure some excellent speakers who are international leaders in Agile, including Paul Goddard from Agilify and James Harvey from DevOps Group.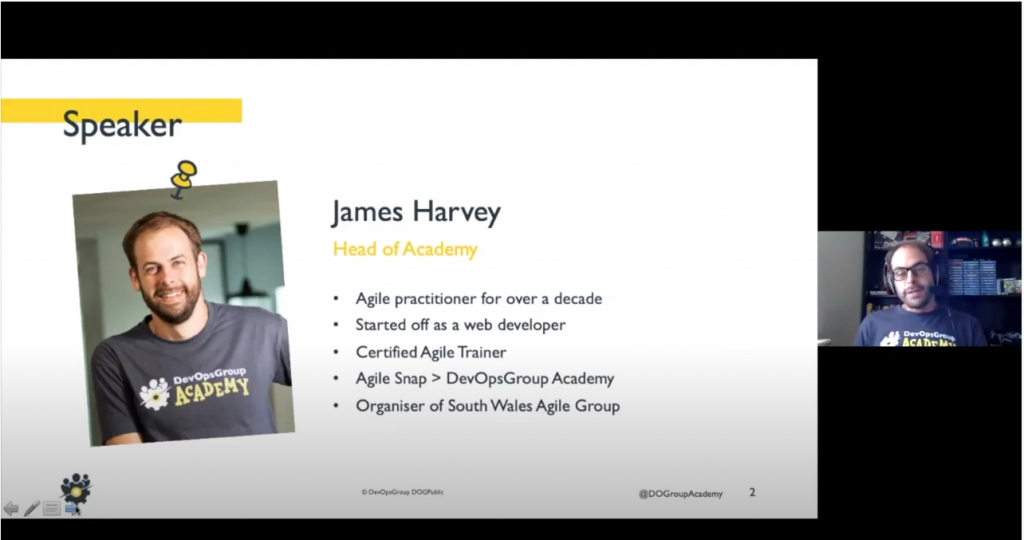 We then held sessions with each of the speakers to discuss what they would present and to agree on the agenda and logistics of the day.
Planning a virtual event needs a lot of preparation to make sure everything runs smoothly on the day. As the date got closer, we had several 'test runs' to ensure we had a good grasp on the technology. We had three different 'tracks' of events and talks to run at once which attendees could choose to follow on the day, so it took a bit of experimenting to figure out the best way of organising that. But we got there!
On the day
The event was ambitious considering we had never done anything on this  scale before, with three separate 'tracks' running throughout the day for different members of the scrum team, which were:
the Product 'track' for Scrum Product Owners (the people responsible for managing the Product Backlog), looking at building the products and the organisation involved
the Dev and DevOps 'track' which focused on the system's development life cycle and how to provide continuous high quality delivery
the Scrum mastery, coaching and soft skills 'track' to help Scrum Masters to develop their coaching skills
We had talks from renowned international speakers, including our inspiring keynote, Clarke "The Bottleneck Guy" Ching, who showed attendees 'how to use jokes and stories to teach new ideas without provoking resistance' in his talk titled "A ScrumMaster, a Pig and a Chicken walk into a bar…"
On the day we had a good mix of DVLA colleagues and external organisations. With over 250 attendees from 62 different private sector organisations and 21 public sector organisations, including NHS Wales, Welsh Water and Her Majesty's Revenue and Customs (HMRC), the event was a great success and feedback has been positive.
Lots of our attendees said they would love to attend another event run by DVLA in future. One commented, "Really liked the videos and guests. Great work DVLA," and another said we had a "great mix of speakers and workshops".
The structure of the day worked really well, with one attendee commenting: "Overall it was a brilliant event, I learnt a lot from the talks as well as the visual thinking sessions. Looking forward to more events from these organisers. It felt refreshing to learn new things in such a fun and relaxed atmosphere."
My key observation from behind the scenes is that great teamwork gets things done, and we had a fantastic team of people working together to make it happen. I really enjoyed the experience and am proud to have been part of the team that pulled it together.
If you want to attend one of our future events, make sure you follow us on Twitter, Facebook and LinkedIn to keep up with all of our opportunities.