Rohan (Service Manager), Ryan (IEP Product Owner) and I (IEP Programme Manager) were invited to present at the GDS Sprint Alpha event at the Royal Society in London.
I was impressed by the turnout and the amount of very senior sponsorship that the event had. It was a real who's who of the senior civil service and Government! The event kicked off with presentations from Rt Hon Francis Maude, GDS Exec Director Mike Bracken, David Gauke MP and Sir Bob Kerslake. They were joined on the stage by Digital Leaders and Permanent Secretaries. They collectively presented a very joined up and powerful message regarding their commitment to Digital Transformation. Make no mistake – this is happening!
We all presented one of the 8 workshops that followed the key messages. Rohan demonstrated the new IEP digital service we are delivering and Ryan presented at the Assisted Digital workshop in which he talked through what our customers' requirements are and how it supports those customers who cannot go online. I delivered a presentation 'How DVLA said no to the status quo' where I talked through our experiences in migrating from a traditional waterfall development to embracing Agile.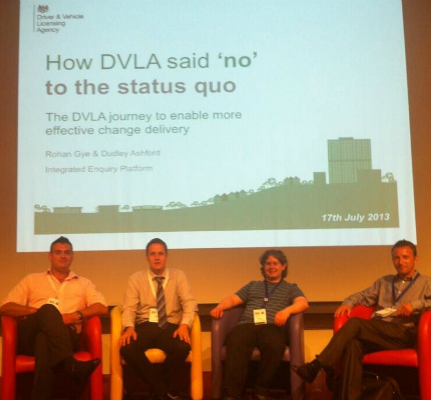 In summing up the event, digital leader Jeremy Boss, picked up on the IEP proverb "the person who says it cannot be done should not interrupt the person doing it!" as a example of the ethos needed to implement this level of change. A great moment for me!
The key message I took from the event was just how significant the Digital Transformation is and the profile that IEP has within it. We had many references and were one of the key digital exemplar projects highlighted at the event.
It was impossible not to leave the event feeling excited about what IEP is trying to achieve – not just in terms of delivering quality digital services, but proving new ways of change delivery. All those involved with the project should be very proud of what we achieved so far and we now need to focus and ensure the we return to the next event in January with our Beta and Go-live badges!
The thing that struck me was that GDS expect all 25 digital exemplars to be delivered in 400 days and we are already 116 days in. No pressure!