Following on from Rohan's blog post introducing himself as DVLA's Service Manager I wanted to provide some further detail on my role as the product owner for IEP, one of DVLA's three digital exemplar projects. I have been in this role for a whirlwind 5 months. I often get asked what's involved in being a product owner so thought now was a good time to share my experiences.
My working day starts with the daily stand up. This is a quick meeting of the project team and includes software developers, system testers, business analysts, a scrum master to keep everyone in check and myself. The stand up only lasts for 15 minutes and everyone has to answer three questions – what did you do yesterday? What are you going to do today? Do you have anything blocking your work? This gives everyone in the team an up to date overview of what is happening and any potential issues.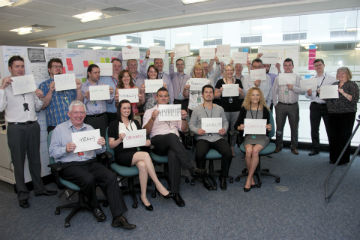 After the stand up it's off to the first meeting of the day. I'm meeting with DVLA's diversity team to ensure that I and the IEP project consider the needs of all our customer groups.
As I make my way back to the team to decide which part of the website to build next, I can see they're all busily developing the service. When I get to the team area I can see a developer has finished a piece of work and it's ready for me to sign off, I put decision on hold and review the work with the developer. As product owner there is no set day and the daily plan is quickly rearranged and reprioritised.
After a quick bowl of soup for lunch it's off to meet DVLA's Usability Testing Team to talk through the recent customer testing which took place in Taunton. The testing process is vital to the success of the IEP project. I wanted to talk through the latest results to ensure they are used to improve the customer experience and iron out any bugs that may exist. It's then straight into a conference call with GDS colleagues to discuss how we cater for people who are unable to access or may need assistance to use our new digital service. My day was finished off by reading through my emails and seeing what's in store for the next day.