Now that we are three sprints into the Vehicle Management alpha, we have a working prototype of our first service.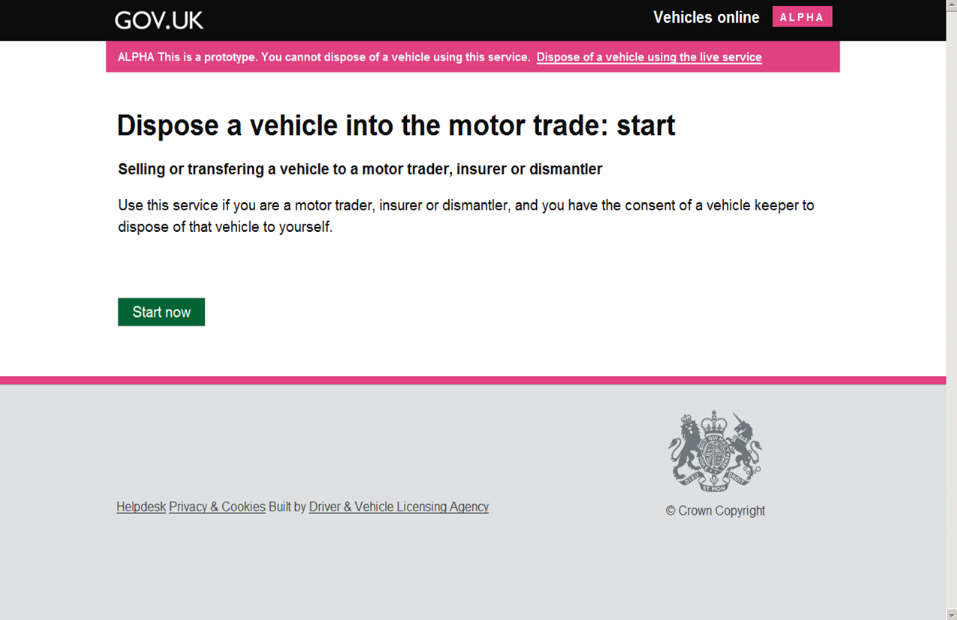 The service we've chosen is disposal to trade. This online service will allow DVLA to be notified that vehicle keepers have sold their vehicle into the motor trade. DVLA will then be able to immediately update the vehicle record whilst at the same time removing the need for the vehicle keeper to send in a tear off from the V5C registration certificate (log book). The service will provide reassurance to the user that their record is up to date and any liability for vehicle tax etc is removed. Some of the features include capturing the details of the vehicle being sold, the name of the trader, and the date of the transaction. More features will be added as we continue to talk to users about their needs.
It is still early days and the intention is to test this rigorously with the trade, independent traders, franchise dealers, scrap merchants and individual users and at the same time we will continue to develop the service. Timescales for delivery are still being firmed up but we hope to be able to let you know more soon.
Once we've delivered the disposal to trade service, we will then look to build out from this base a further suite of services. Our next proposed service is notification that you have purchased a vehicle from the trade, and we are also considering what Personalised Registration services we can deliver in parallel. Moving on from this we will then look at notification of vehicle keeper change from private vehicle sales, before we start to develop services to allow customers to update details such as their name or address.
In the coming months, we'll report on progress and the feedback we are getting through our user testing.