It's just over 2 weeks since the Beta launch of the View Driving Record service and what a hectic two weeks it's been. We've dealt with the global heartbleed issue, fixed minor teething problems and presented the service at a DVLA show and share event.
We've also received a great deal of feedback from users of the service which will allow us to make improvements over the next few weeks based on real life feedback.
But the thing that has grabbed my attention most since we have moved into public Beta has been the analytics that we have on the service.  I have been gripped by the real time statistics that are displayed in the team area and the amount of information that can be take from this tool.
One feature allows you to fly around the world using Google earth to see exactly where customers are logging in from – addictive viewing.  I often see people walking through the area and suddenly stopping to watch the analytics as it takes you around globe.
In just over 2 weeks of Beta running we have had over 65,000 hits to the website.  These have come from over 90 countries and over 1100 cities worldwide  from exotic locations such as Barbados, Thailand and Sri Lanka and a diverse range of cities such as Durban (South Africa), Moscow (Russia) and Kingston (Jamaica) – truly a global service.
On the home front, visits from England make up nearly 90% of the hits with Scotland coming in second with around 6%. Top of the UK cities is London with 30% of the UK traffic followed by Manchester (3%) and Leeds (2%).
We can also break down the technology that has been used to view the service so with a couple of clicks I can determine that the service has received over 15,000 hits from mobile devices including over 6,000 from iPhones  and 7,000 from Android devices.  This information can be used to focus our testing efforts on specific devices and operating systems.
I can also check to see where the customers coming into our website have been referred from.  This will help to identify and combat any rogue websites that may try and earn money from the service.  So far we have had nearly 20,000 referrals from GOV.UK and several hundred through Facebook.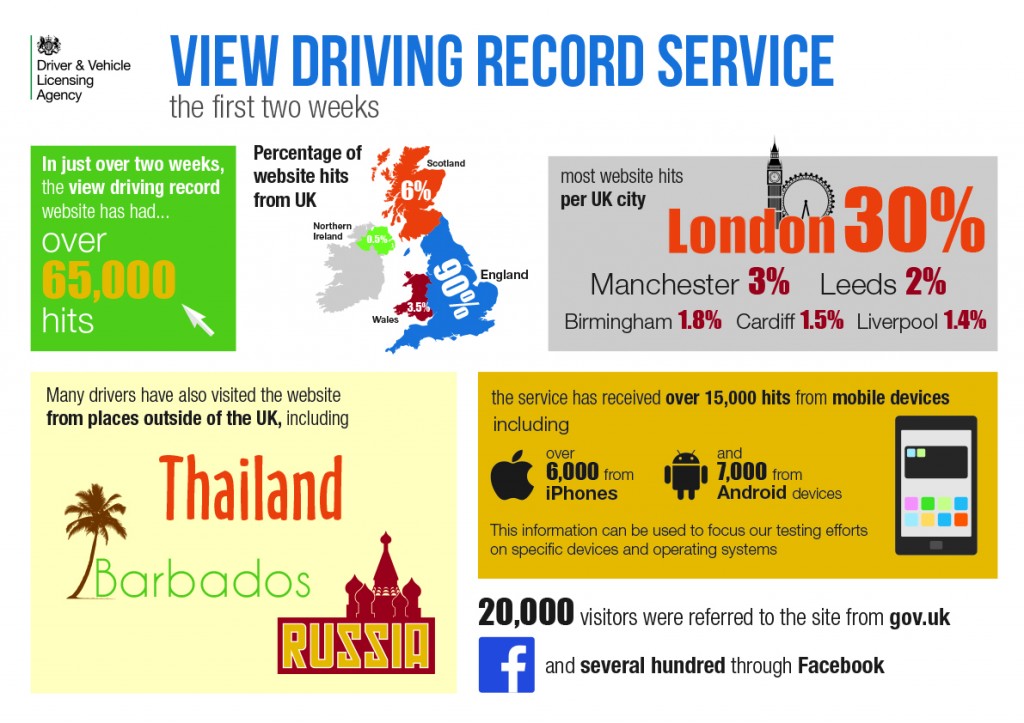 So that's a quick stat attack from our first couple of weeks in Beta.  In my next blog I'll provide updates on how user feedback is helping to shape and improve the service.