Hi, I'm Matt, Chief Architect at DVLA and responsible for setting the agency's technical direction. Last year I was thrilled when we released our first Alexa skill on the Amazon store which lets you check when your vehicle tax and MOT is due, 24 hours a day, 365 days a year.
Moving into voice computing has allowed us to trial this innovative DVLA Alexa skill on Amazon, and given our customers more choice in how they get information about their vehicles.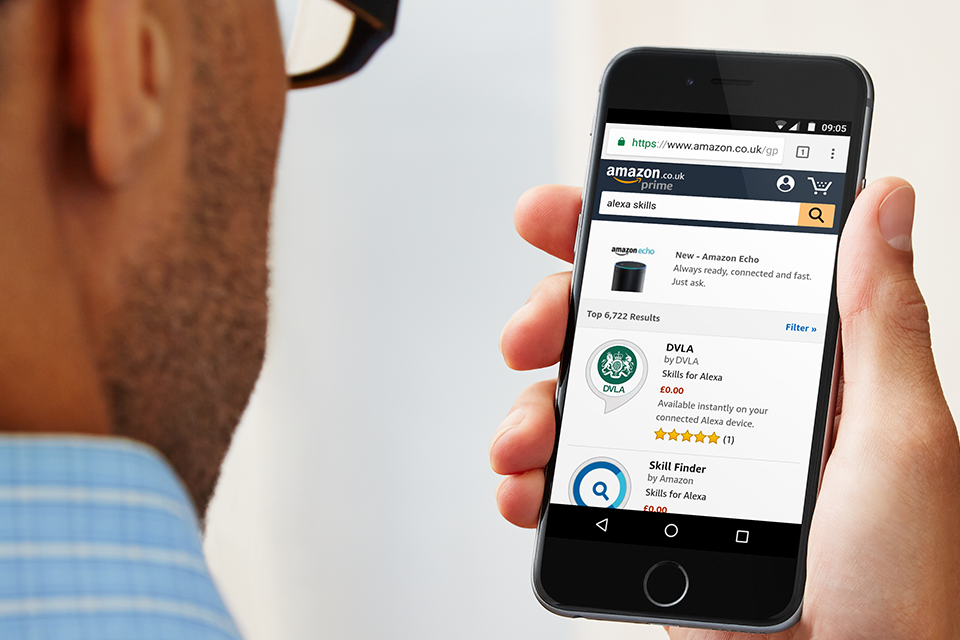 How it works
Our skill allows you to tell Alexa a registration number and hear back when the tax and MOT is due for a vehicle. These details are also returned as a card in the Alexa app.
Since the launch:
it's been used by more than 10,000 customers
60,000 plus vehicle enquiries have been made
more than 850 users have been told their vehicle wasn't taxed
more than 700 users have been advised a vehicle didn't have a valid MOT certificate
Alexa has also helped raise awareness of a vehicle's status so it gets taxed and on the road as simply, safely and efficiently as possible.
We've had some great feedback and our analytics show the majority of registration numbers are understood first time.
We recognise that some of our customers struggle with getting Alexa to correctly recognise the registration number - and left feedback to tell us their issues. These issues are not within the skill itself, but the Automatic Speech Recognition engine in Amazon that converts the speech to text. The accuracy depends on a number of factors, such as accents and background noise. It becomes more of an issue when saying a registration number, which is not of a fixed length, or in a pre-defined format. This is why we've completely revised our skill, taking advantage of new features now available in Alexa, to provide a better user experience

Enable the skill in the Alexa companion app, this will bring up a new screen.
Type in up to 3 registration numbers, saved as part of the skill.
Ask Alexa when your tax is due.
You no longer need to read out your registration number each time. If you want to check a number that isn't saved just ask Alexa to check a new registration number.
We need your feedback
I really look forward to receiving the feedback from the update to the skill. I've already learnt that there is an appetite for using voice services to interact with DVLA and I'm really excited to know what you think of the service.
Looking back
I built the skill at home, showed people the working skill as a demo, and gained the full support of DVLA's Executive Board to publish it. It's fantastic to work for an organisation that embraces innovation, and is prepared to support new ideas like this. I've received nothing but encouragement along the way.
Want to work on interesting technical challenges on services that touch over 90% of the UK adult population?
Follow DVLA on Twitter, Facebook and LinkedIn and subscribe to our Inside DVLA blog.