Earlier this week, I spoke at the Government ICT conference in London. It was a great opportunity to share the progress we've made in delivering the DVLA IT strategy. I'd last blogged about this a year ago, so as I'd given a progress update at the conference, I thought now would be the perfect time to give you an update too.
It's all about the people
The biggest problem in government is that everything is changing all of the time, from legislative changes to unpredictable customer behaviours. So, we need to make sure we can respond as quickly and smoothly as possible.
The message I wanted to get across at the conference was that it's the people, not the technology, that will allow us to do this and become a 'best-in-class' IT service. That's why our IT strategy isn't just words and charts about how we'll get there – it's about how it will benefit our people and customers.
The first big step was bringing all IT services in-house. Having external suppliers was limiting how innovative we could be. We needed an in-house team, who would really care about our future and want to be a part of the journey.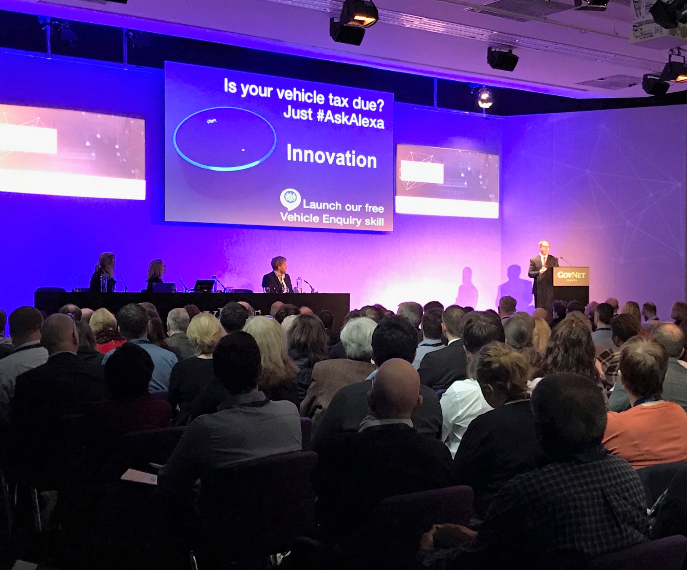 A new way of working                                             
The transformation has involved changing the way people think and work. We've had a huge reorganisation and every process now has an individual owner, which increases accountability. This is helping us to become the flexible and responsive IT service that we need to be.
We're also promoting a culture of independence and freedom. Our team are encouraged to own their work and to have the confidence to make decisions based on the direction set in the strategy.
Exciting new products
We're already seeing the benefits of empowering people to work in this way.
We've recently introduced a fully functional API platform for the Vehicle Enquiry Service (VES) within really challenging timescales.
We're also becoming more innovative – we're trialing an Alexa product (skill), which allows customers to check their vehicle tax and MOT status. It's one of the first voice services in government.
Our IT operating costs are 40% lower since bringing IT services in-house. Because it costs us less than ever before to make changes, there's less of a barrier to making the changes we want.
Keeping you in the loop
We've overcome many obstacles to get to this point, and we've still got a long way to go. We want to share our challenges and successes with you, so stay tuned for more updates soon.
Follow DVLA on Twitter, Facebook and LinkedIn and subscribe to our Inside DVLA blog.